About Songspell
Songspell is an ongoing creative adventure, that has in creation another new Albums of Songs, a book of Poetry and an Album of 'decomposition' acoustic tracks.
The members of Songspell are:
Howard Quinn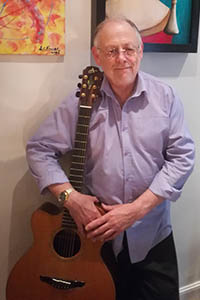 Howard Quinn conceived Songspell as a vehicle for performing, songwriting and recording through collaboration with other musicians. Having a background in Folk music, Howard also plays Sitar, the Harp, and guitars. Having spent time in two performance bands, "The Apple Droppers" so named after the Apples that were dropped onto the meanies in the film "Yellow Submarine" and "Hum", the collection of Songs on Songspell had begun their journey and have finally became fully formed through the friendship and musical authenticity of Paul Leigh.
Paul Leigh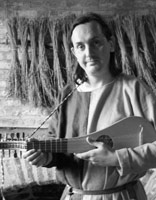 Paul Leigh has run Trouvère, a band of minstrels specialising in medieval music, since 1998. Trouvère has travelled all over the UK and performed in Europe at various festivals and concerts. Paul performs (mostly) on flute and guitar/lute but also plays bagpipes, recorders, shawm and percussion. Paul and Howard have collaborated musically for over 10 years working on various ideas building up to the production of this CD.
Clare Little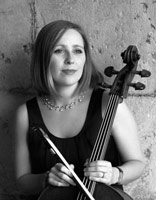 Clare Little studied music at the University of Hull where she was awarded a BMus (Hons). Since moving to York in 2000, Clare has become a busy orchestral 'cellist, most recently performing with Academy of St. Olave's Chamber Orchestra under the baton of Allan George of the Fitzwilliam Quartet. Solo engagements have included recitals in York Minster, Chelmsford Cathedral and regularly in her home town of Louth in Lincolnshire. Clare is also a member of the Bousefield String Quartet who play in and around the York are recently performing with Chris Helme (Seahorses and The Yards) and have recorded with Shed 7. Clare teaches 'cello at Bootham School in York and Ackworth School, Pontefract.
Simon Whincup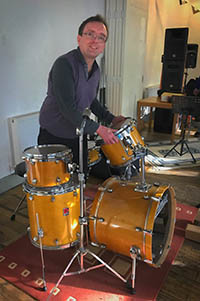 Simon has been playing and developing as a drummer from being a young boy.
You'll know what we mean when we say, "he's a tidy drummer" and is always adding in new dimensions when recording and playing in the band.
Recently interviewed by BBC Scotland about his volunteer work and drumming skill workshops at a day centre for a mental health charity in Harrogate, he also engages in other musical collaborations and teaches drumming.